The holidays are over! This is leaving some of us relieved and a few of us a little disappointed that it's time to get back to the grind. Regardless, this past month has been a busy time for everyone. Before we cocooned ourselves for the remainder of whatever PTO days we had remaining, ABG Capital took some time to do what they do best; invest in the future.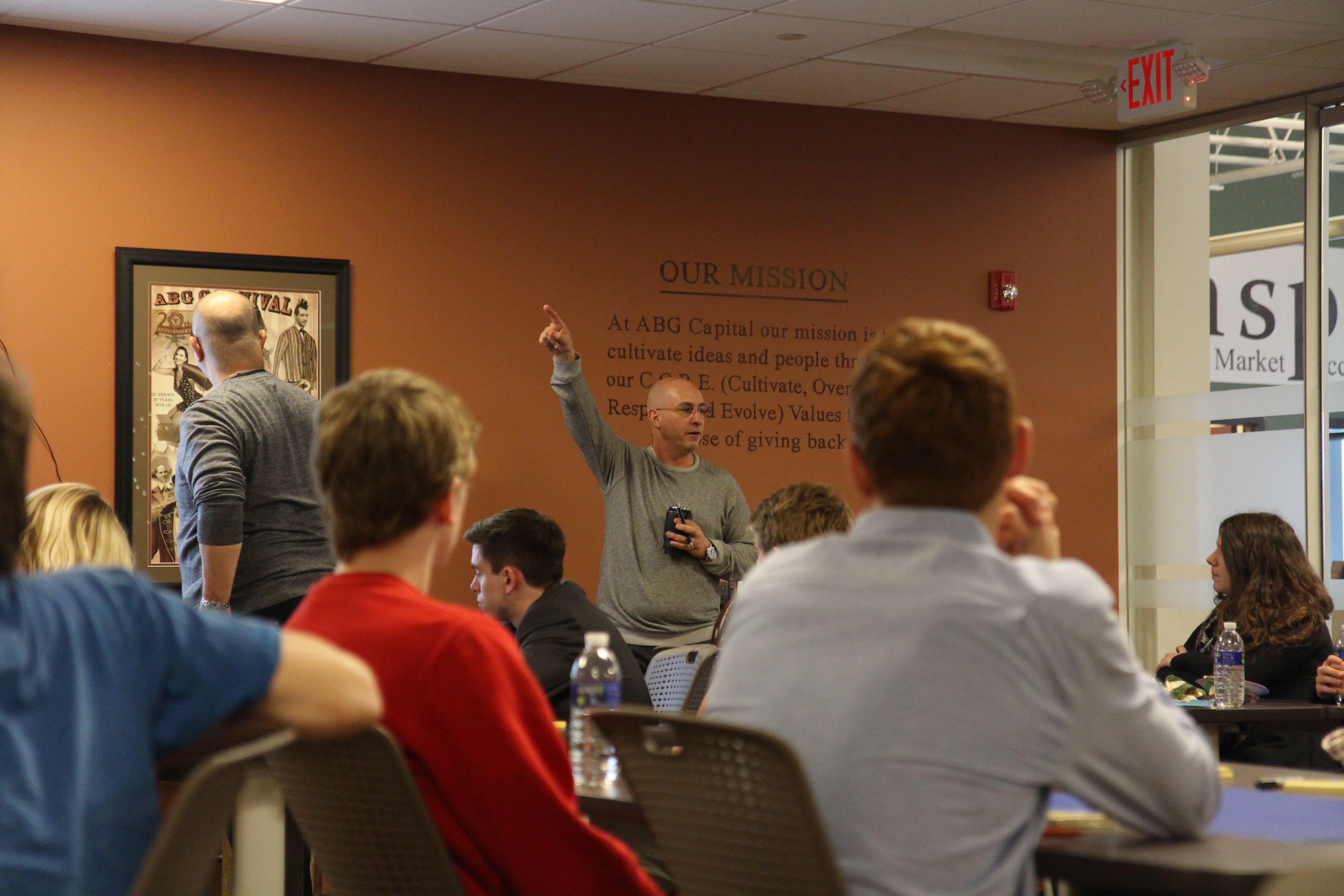 How so? One month ago today, we welcomed the students of the Canon-McMillan School District's Entrepreneurship Program! Twice a year, as part of our community outreach initiatives, we welcome the class and their teachers to our office for an educational field trip.
ABG Capital finds it important to invest in educating students for "real-world" office life expectations. On this particular visit, the students gathered together to listen to ABG Capital's CEO Jeff Tapolci, VoIP Innovations' President Dan Ravenstahl, Director of IT Adam Scott, Director of Human Resources Sharon Kolesar, and Director of Development Jerry Eddy.
After a brief introduction of our company's history, structure, and people-focused culture, Jeff spoke about some of the useful business tools he uses to ensure the alignment and health of our companies. The students learned about the importance of Strategic Thinking and the 7 Strata, along with Execution Planning and the use of a One Page Plan. The main topic of discussion, however, was the topic of ideation.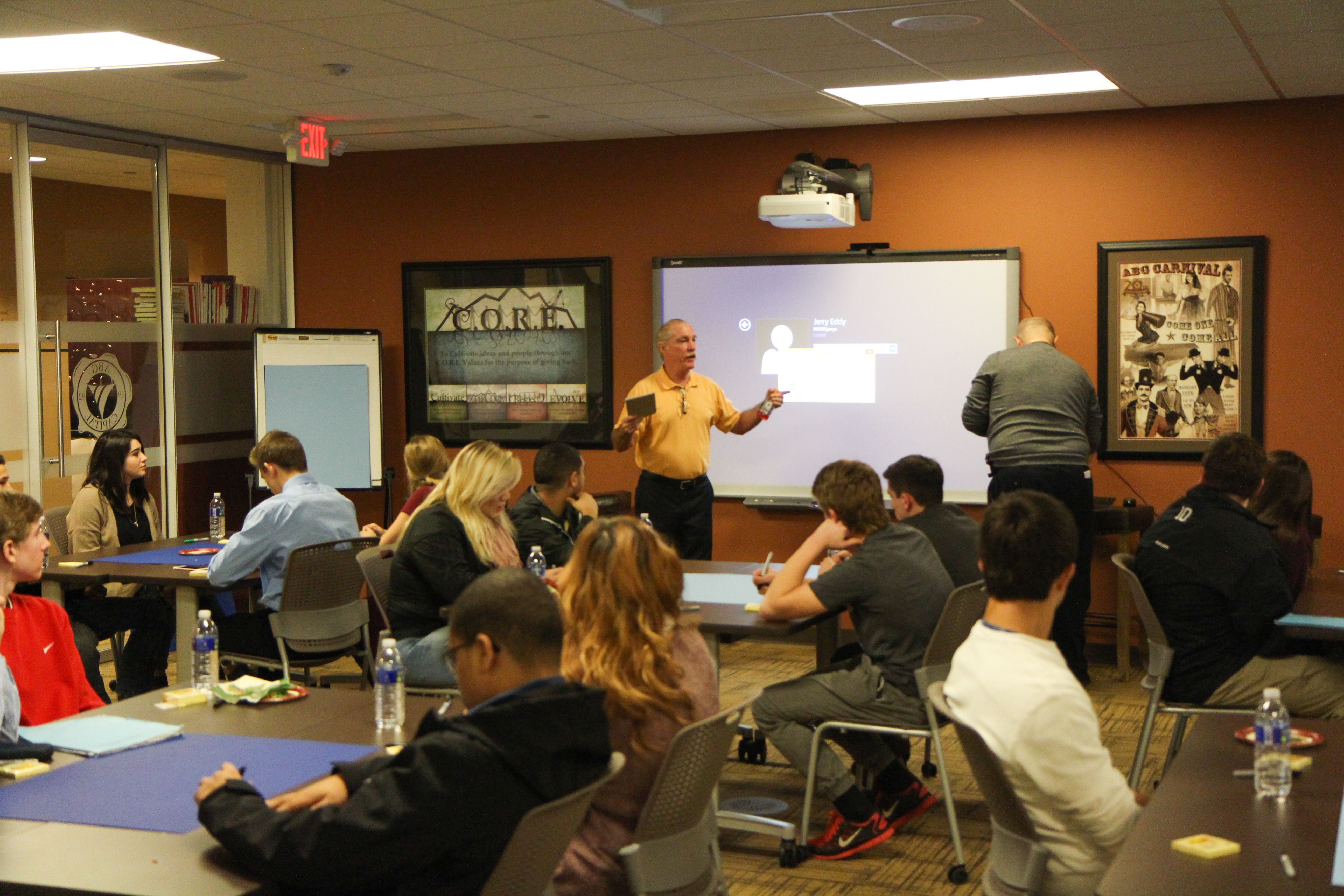 What is ideation? The thought process of ideation comes from Stanford University. The goal of performing ideation is to produce "innovation at work" whether it be the overall mindset of your employees or an actual team-building session completed throughout each department. Ideation occurs at every point of the project planning process, but these ideas are often brought together with others generated during specific exercises aimed at uncovering new methods, approaches, practices, and, perhaps most importantly, new ways of improving something such as a new user interface experience. So much information is uncovered over the course of most projects that there must be a point where it is combined, analyzed, and converted into practical solutions and means of making innovation at work more tangible.
After hearing the detailed overview of ideation, students formed small groups to perform their own ideation sessions. Following the layout and steps of this ideation/brainstorming template, the Canon-Mac students chose struggles that involve other people, can be solved with a physical thing or experience, and that could be tackled within a week.
The students dove deep into these brainstorming sessions and came up with some really insightful and thought-provoking ways to develop analogous situations, break through any constraints, and framework for the problems they decided to tackle.
Shortly after their ideation run-through, the students were able to wrap up their day with the chance to meet with members of our staff that work in departments like Development, Marketing, IT, and Accounting. Our team members shared with them how our roles in the company, along with other companies they have worked for, have helped shape their careers and led to new opportunities.
After the meet and greet, the day ended with pizza for lunch and a Q&A session from the students.
The day was busy, fun was had, but most importantly the students were able to take away a better knowledge and understanding of what may lie behind the door of graduation. The students were able to witness first-hand the power of what a small family run business has the potential to turn into with hard work, cultivation of those around you, and respect. Success is the aim of the game. ABG only hopes that we could instill that goal in the minds of these young adults and inspire the next generation.
For more information on ideation and how you can implement this philosophy and strategy into your workplace, click here.
To get a copy of the Innovation at work Ideation worksheet, click here.
Tweet