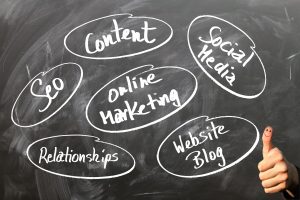 We like to think we have it together and can do it all, but we know that it's not true. A lot of the times we feel like we are being pulled in 6 different directions. Sometimes this is not far from the truth.
Organizations can spread employees thin on multiple projects in order to save costs. Now, don't get me wrong, I'm all about saving money where you can, but spreading your most valuable resource (yourself and your employees) too thin can be counter productive.
In the workplace, when things get busy some "non-essential" projects get pushed to the back burner. When this happens, marketing is one of the areas that tends to go by the wayside. If you are looking for success and growth, ignoring to set good marketing practices can hurt you in the long run. Marketing is an ongoing project that needs continuous monitoring and evaluation. It is not a one-time thing; it's an investment. You may think its more cost effective to figure this all out in-house, however, if you don't have the human capital to concentrate on this, you may want to look for help from a professional marketing group. To make sure you get the best bang for your buck with said investment, here are several tips for vetting a strategic marketing company.
How's the Fit?
When you start looking into different marketing agencies, one of the first things you need to explore is how well they will fit with your company and its needs. They will be representing your organization; are they capable of echoing your voice and values? Also will their communication styles jive with yours? If your group values face time, you don't want to work with a strategic marketing company that relies heavily on email communication.
Collaboration
Though you are outsourcing your marketing management, you may not be outsourcing your graphic and web design projects. Or maybe you already have other vendors taking care of those needs. When interviewing potential agencies, discuss how they will collaborate with other groups in the creative process. If they are not willing or will have issues working with the platforms that have already been established, it's best to know before signing a contract.
Professionalism
This should probably go without saying, but you want to make sure that the group you choose is professional and educated in marketing skills. You'd like to think anyone who presents themselves as "marketer" is professional and competent, but sadly that's not always the truth. Before even picking up the phone, do some research, look at their portfolio work, do they list education backgrounds? How long have they been established? Remember you are making an investment; do some leg work first.
Know your Aim
Are you looking for more content marketing management, digital, or both? Be sure you know what your goals are before starting the vetting process or you may end up wasting time vetting marketing companies that can't provide what you are looking for. Once you have decided, be sure to ask goal-driving questions. Just because a group says they do digital and/or content management, doesn't mean they do it well. Find out what their strengths are and if they fit your specific needs.
References
Think of this process as you would hiring a new employee. You wouldn't just hire someone off the street no questions asked, right? Ask for client references and a list of past portfolio work.
Marketing is essential to helping a business grow especially in the digital age. Consumers and potential clients are looking for a brand with a story. Relying on word of mouth can only go so far. Remember marketing is a long term investment for long term rewards. When choosing a marketing strategy and a potential outside company, keep this all in perspective.
Tweet