Cold calling is dead.
It's just that simple. We now live in a time where marketing no longer reaches out by annoyance but by content filled with rich stories, SEO, automation, analytics, and so many other intuitive methods. Generally anything besides making those awkward phone calls in hopes of securing a customer.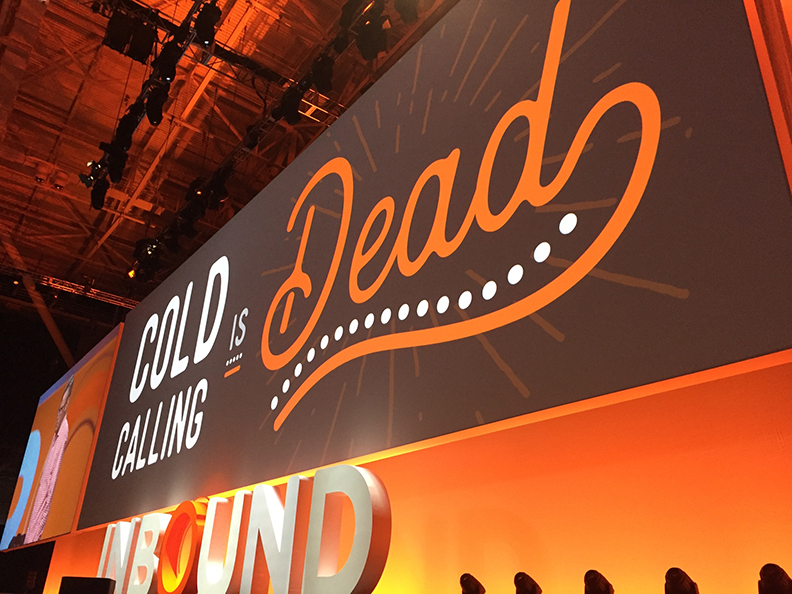 That's the beauty of Inbound Marketing. The barriers have been taken down. The opportunity for creativity and passion to be instilled in the way we choose to represent our brand is endless. Inbound brings forth a new frontier where captivating attention–and day trading it–becomes the holy grail of our marketing efforts.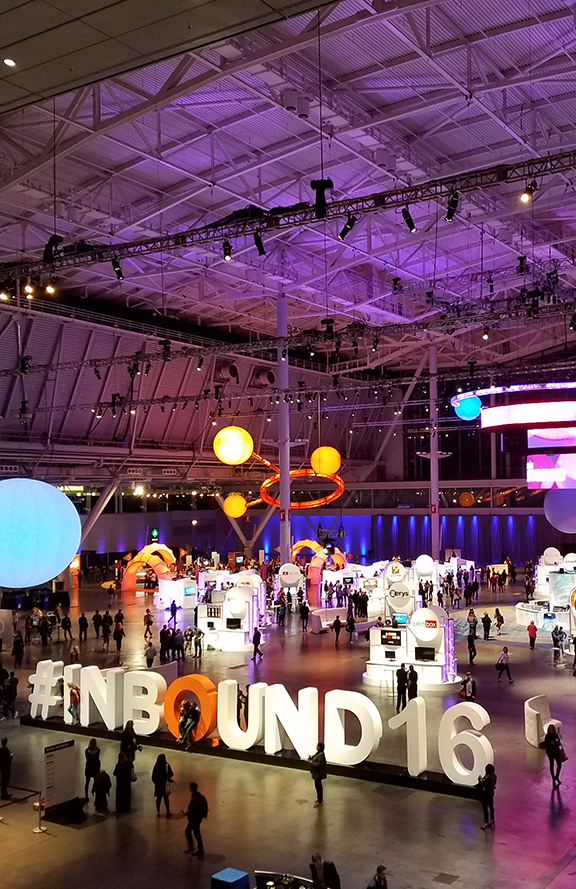 INBOUND16 brought together over 18,000 attendees who live and breathe in the world of marketing, sales, and CEO-land, as well as HubSpot customers and agencies who understand the mentality and passion behind inbound and organic reach. All of us scurrying from session to session, taking notes and absorbing as many thoughts and tactical tips as possible to bring back to our organizations.
A few INBOUNDers from our marketing department flew to Boston to be a part of the gathering and came back full of insight. Upon landing, these three scattered throughout the convention center to gain the best marketing knowledge in the industry.
In the three and a half days of attendance Cherie, Cody, and Mark witnessed powerful keynote presentations from marketing gurus such as Gary Vaynerchuck, the "eloquently" spoken founder of VaynerMedia and host of #AskGaryVee, as well as Brian Halligan and Dharmesh Shah, Founders of HubSpot. Celebrities filled the halls of INBOUND as well. Stories of the rise and grind were told by Anna Kendrick, Michael Strahan, and Serena Williams. Even Alec Baldwin graced INBOUND16 with his presence one morning! The passionate life-tales and insight didn't end there. Hundreds of breakout sessions filled all 80 rooms of the Boston Convention center as well as both of their grand ballrooms.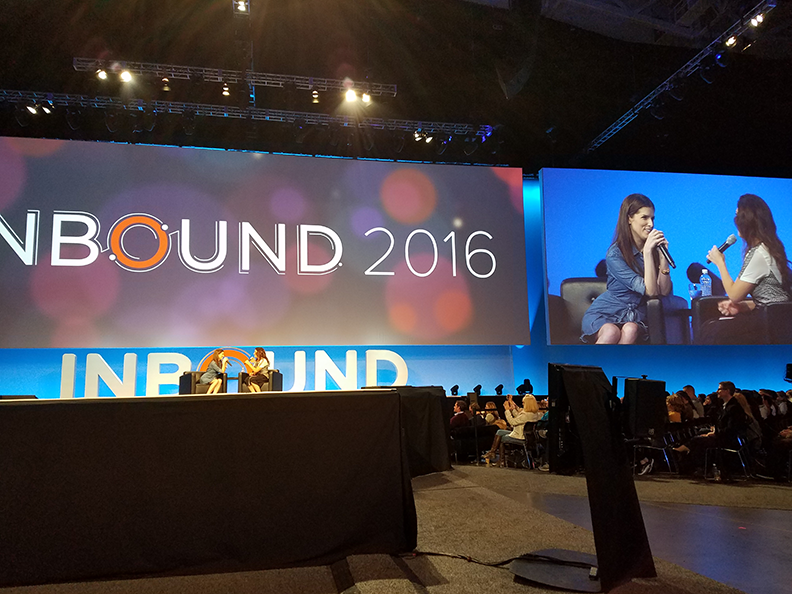 To summarize INBOUND completely is almost impossible. To experience this wealth of powerful knowledge and standout mentors, as well as those sharing the field of inbound from around the globe together in one location is something you truly have to be there for.
To squeeze just a little bit of this experience out of the conference we asked our three in-house-INBOUND-incumbents what moments of enlightenment, insight, actionable tips, and fun they experienced individually.
Cherie – PR & Social Media Specialist, ABG Capital: "INBOUND16 was such an incredible experience that it's difficult for me to pick just one takeaway as my favorite. The initial thought I have anytime I reflect on INBOUND(16) is how amazing it was to be among other people in my field who just "get it." The fellow attendees understand how crucial it is for us marketers to do what we do for a business. They also understand that while we have the "fun" jobs of the company, what we do takes hard work, strategic planning, analyzation, concentration, and creativity.

I'm downright giddy at INBOUND listening to others in my field "talk shop."  And while my focus at work is on PR and Social Media, I have the opportunity to attend sessions on design, video, content creation, and storytelling, which aids in rounding out my expertise. If you want to be at the top of the sales and marketing field, a trip to INBOUND is a must for getting there!"

Mark – Product Manager, InspiraFS:  The Session titled: 'The Science of Selling: How to Sell the Way our Brains are Wired to be Influenced and Form Buying Decisions' really stood out for me.

David Hoffeld, The Hoffeld Group stated "63% of the behaviors salespeople deploy decrease the likelihood of a sale." SAD! As marketers, we should care deeply about how prospects' brains react to sales strategies. At the end of the day we are trying to drive sales, just in a different environment. There's no reason we shouldn't incorporate the science of selling into our content.

Cody – Inbound Marketing Specialist, ABG Capital: INBOUND showed me that your story matters. Something that outbound, or "interruption marketing," doesn't necessarily embrace. Interruption marketing is simply the interruption of someone's activity to grasp his attention…it's an annoyance. We've all seen in it with spam, pop-ups, ugly banner ads, cold calling, and even TV.

In Gary Vaynerchuck's keynote he explained that the television networks we know and love are becoming extinct. What's replacing them? Intuitive social media platforms that tell stories. Our iPhones have become the basis of our entertainment. They're our new television sets. They're filled with the networks we know and love–Facebook, Twitter, SnapChat, Instagram.

We follow brands and celebrities by choice. Not by interruption. We "tune-in" to their stories, latch onto their content, and implement their output into our daily lives. Not because we were caged into watching a 30 second spot in the middle of the Walking Dead because our On-Demand isn't working–but because we as a society, we as a human race, place emotional ties into what we view and love–the quality of story-telling.
Tactical Advice You Can Use Today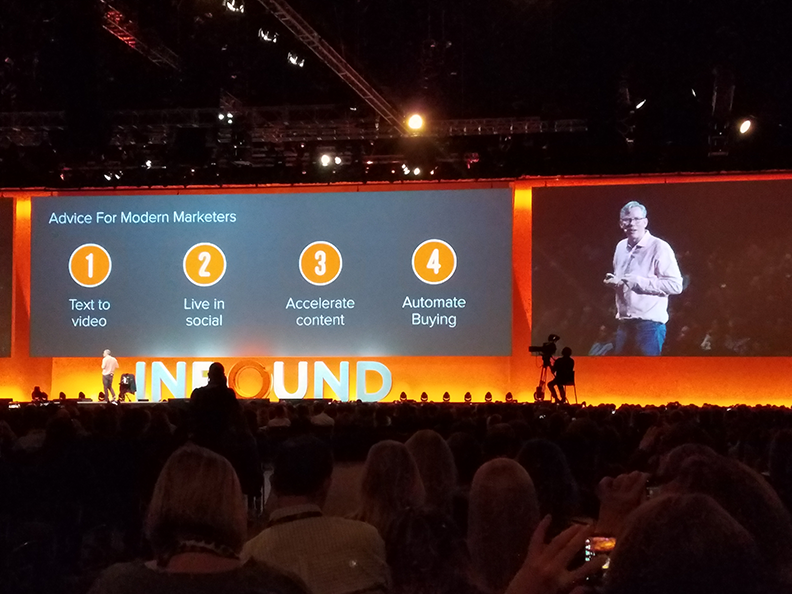 As I said earlier, summing up the lessons learned from INBOUND in their entirety is nearly impossible. However, we can give you few actionable tips that can improve your website and your conversions today!
Here are some tips you can incorporate right now:
Remove your slider/carousel hero banner. These diminish CTR (Click Through Rate) and take away from your value proposition.
A value proposition–you should have one! Peep Laja with ConversionXL has one of the best articles on how to create a great value proposition. Read it and test yours starting today. If you find this hard, just pretend someone asked you what you do and how you're different. Once you've compiled that, organize it into a value prop and get it up on your site.
Define your conversion funnel assumptions. When someone lands on your homepage, where would he or she logically go next? Make that next step easier. That's conversion optimization in a nutshell, and you can try that for each page. Use any data you have, or start with assumptions and test, test, and test some more.
Optimize your blog. Aside from your homepage, your blog is probably the second highest visited part of your website. You'd be surprised how your blog is leaking opportunities to convert.
Testing…Testing…Testing! So how can you do that? Add Hotjar to your site today. This will show you heatmaps, user recordings, and more.
Start using these tips today! We'll be sure to enlighten you with more after INBOUND17. Grab your tickets for next years INBOUND with your company; you never know, we might just happen to see you there!
Tweet