It's that time of year again–time for the annual Gazelles Growth Summit! ABG Capital's top dogs are fortunate enough to travel once again to this learning event in Atlanta to continue their growth and education in the world of leadership.
ABG Capital, along with hundreds of other business owners, will learn from CEOs of some of the world's top companies to understand their habits, experiences and insights to craft an industry dominating strategy!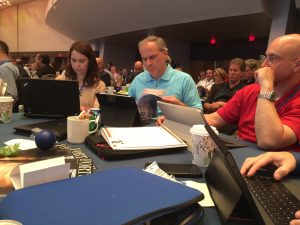 This year's summit is focused on Verne Harnish's book Scaling Up- Mastering the Rockefeller Habits 2.0. There will be a buffet of knowledgeable guest speakers presenting, including Jim Whitehurst, David Butler and Aubrey Daniels just to name a few. Also, team workshops that focus on the "Rockefeller Habits 2.0" in a day-long spirit of "how-to" interaction, collaboration and networking will be featured.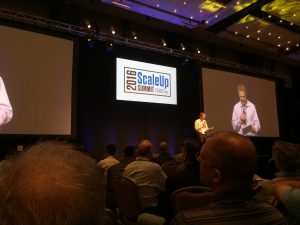 Today we're going to dig right into the meat and potatoes of Scaling Up and showcase how ABG Capital practices the four main strategies found in the book on the day-to-day.
To summarize the book (which is almost sacrilegious to do), Harnish focuses on four keys to scaling your business. Keys that allow some companies to "make-it" and the rest to fall.
The keys are:
Attract and keep the right people
Create a truly differentiated strategy
Drive flawless execution
Have plenty of cash to weather the storms
The People
The book states that the job of the leaders is to make sure the right people are doing the right things.
Your values and culture should be so strong that they act like an immune system, forming a system of protection against those who may not align, all for the greater good and health of your organization.
At ABG Capital we invest in our employees. We cultivate them and promote their growth and success. We shape our employees into their roles and allow them embrace their passions. When everything aligns, it's almost magical. It's wonderful to see our teams share our C.O.R.E. Values, make them their own and embrace their responsibilities. Our organization exists almost as an accounting statement. Each produced effort has a column with numbers of the extraordinary people responsible. It only becomes problematic when those names in the column don't align with the work and values presented.
Some companies may think turnover is a scary outcome within their business. It's actually a good outcome. Only when you invest in your employees are they at the peak of strength. Why? You're weeding out the B and C players that eventually become toxic to your A players–the players in which you invest.
The Strategy
Core values are the rules and boundaries that define our company's culture and personality. They're also the rules and boundaries that define our strategy. We developed a set of C.O.R.E. Values that have helped define our niche, simplify our execution and turn our revenue into profit. Our strategy is differentiated due to the fact that each of our portfolio companies has a Profit Per X. Meaning that our companies individually have one product, service, technology etc. that sets them apart from the rest.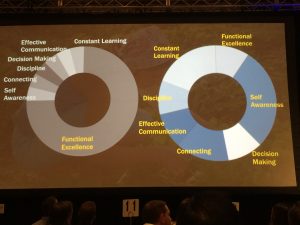 We each also have a BHAG (Big Hairy Audacious Goal), a long term goal that changes the nature of business. For example VoIP Innovations, one of ABG Capital's portfolio companies, differentiates their X Factor, which is their BackOffice software that is unlike anything in the industry today. VoIP Innovations also has a BHAG of offering complete Choice, Automation and Control of their telecom services. Scaling Up teaches us that we need to sandbox our brand promises. Who are our customers? What are we really selling them? What are our three brand promises? And the most important; how do we measure?
The Execution
At ABG Capital we like to focus on three key components to steer our ship in the right direction: priority, data and rhythm. We pride ourselves in focusing on these three words in all that we do. What does that mean exactly? Well let's break it down. Priority–when you come in to the office bright and early, just poured yourself a coffee and sat down at your desk, you should have a piece of work carried over from the previous work day that needs to be finished before your meeting. This task becomes your priority. Each business day should present a new priority; that one project, simple or complex that needs to be completed before moving on to anything else.
Collecting data requires us to have data. Key performance indicators (KPIs) must be identified, and effort needs to be expended to capture this information. ABG Capital's KPIs vary between companies and KPIs enable us to measure how we are performing by revealing both areas in which we excel and those in which improvement is needed.
Rhythm is the heartbeat of your organization. Have a daily huddle. This 5-15 minute meeting should be implemented to discuss tactical issues and provide updates. Brief, daily meetings will help establish a rhythm, as can weekly, monthly and quarterly meetings. Meetings are useful for obtaining feedback, getting "real" information, reviewing KPIs and identifying problems that prevent things from running smoothly.
Meetings can even provide those all-too-rare opportunities to pat people on the back and "recharge their batteries."
The Cash
In Scaling Up,  Harnish says to never blame the industry for your company's financial situation. "Well, this is just the way it is in our industry," isn't a phrase you'll hear uttered from top executives. Could you imagine Warren Buffett or Mark Zuckerberg giving a shrug followed by these words? In fact, Harnish says there are only two time-frames that matter: 90 days, 10 years and nothing in between.
Your 90-day plan is data driven, and you're focused on overcoming the choke point. This is your time to review a daily report of available cash and to note why it has changed in the last 24 hours. Recognizing these changes and following the efficiency and progress of your "rhythm" will promote huge growth in the next decade. So no more excuses–only improvements!
Tweet