Chances are, you could think up a few dozen reasons to celebrate as a business or a team. Revenue milestones, the completion of a large project, or the closing of a big deal are all really fantastic reasons to throw a party and, you might agree, a party is a really fantastic way to boost company morale.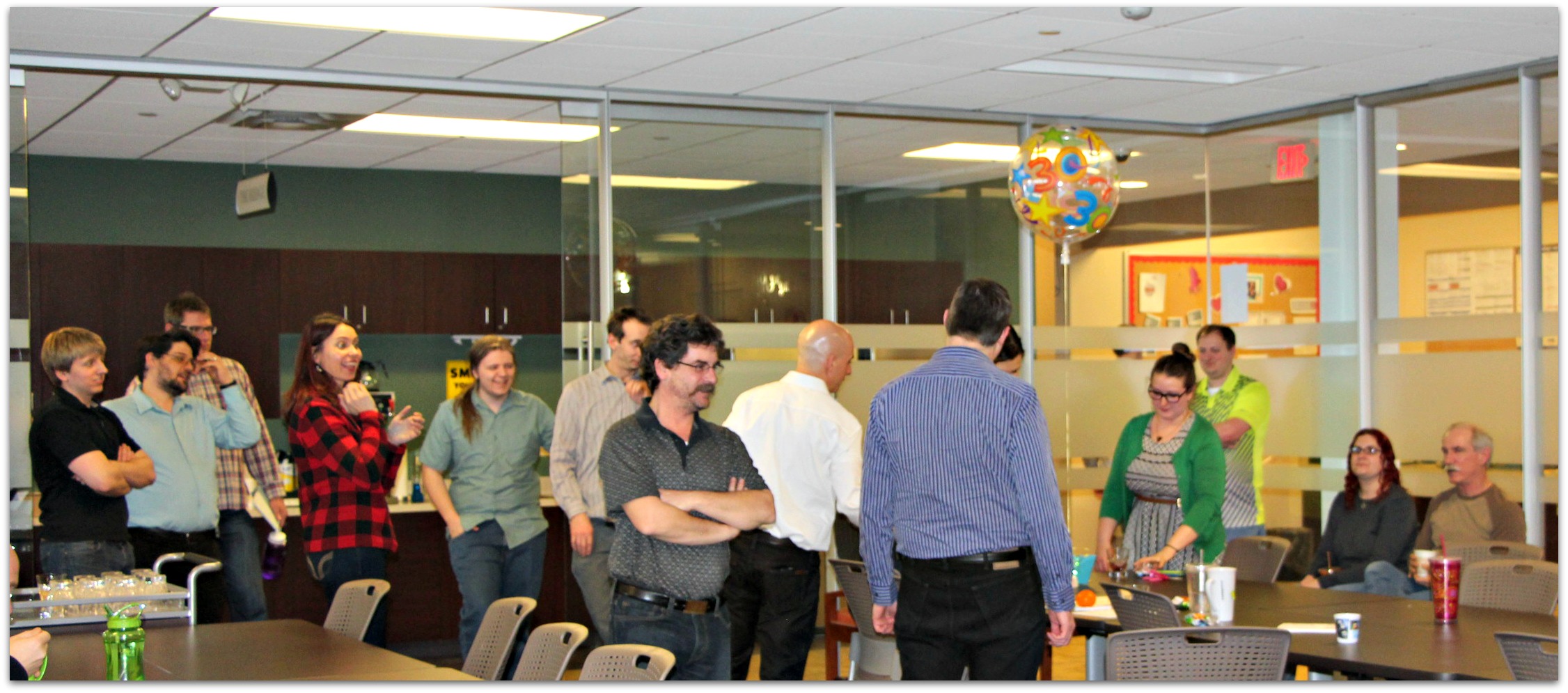 Recognition is a powerful motivator that has a lasting and noticeable effect on boosting company morale. In addition to celebrating group achievements here at ABG Capital, we also like to celebrate our team members' milestone birthdays and anniversaries. These celebrations are a chance for one person to stand in the spot light and receive personal recognition. Work still needs to be completed, meetings still need to be attended, but the day feels better when a special landmark is being celebrated! With a cake, some balloons and a gift from the company, that staff member gets a day that is just their own.
We celebrate landmark anniversaries and birthdays each in their own way. For an employee's landmark anniversary, which we define as a length of service ending in a "5" or a "0" (5, 10, 15, 20 years, etc.) we give recognition at our end-of-month staff meeting. We present our employees with a wall plaque and a trophy noting their service dates, and a gift booklet from a corporate gifting company. The gift booklets include items such as electronics, jewelry, sporting goods, home décor, etc. and the employee redeems a gift code for a present of their choice.
Landmark birthdays are celebrated on the team member's actual birthday. Our Office Manager passes around a birthday card for everyone to sign, orders a cake from a local bakery, picks up some balloons and invites everyone via a company-wide email to gather in our large conference room to celebrate sometime in the late afternoon. After we sing and blow out candles, we present our Birthday Boy or Girl with a gift card from the company inside the signed birthday card.
We celebrated two milestone birthdays in October! Tim Linn, VoIP Innovation's Lead Engineer, and GlobalPOPs Technical Service Representative, Justin Sparks just hit the big "Three-O". Their birthdays were on Oct. 6 and 8, respectively.
Choosing not to celebrate these events can have an equally demotivating effect. When you ignore a team member's special day, you can leave them feeling unvalued. Low morale leads to a decrease in commitment and productivity, and an increase in absenteeism. Even so, there are reasons why some companies choose not to celebrate, including the risk of law-suit for age discrimination.
Here are some ideas for a successful celebration:
Be consistent. Celebrating some birthdays while forgetting others causes hurt feelings.
Get permission from the person before publicizing their birthday or age on social media, company portals and company emails.
Don't pressure other employees to contribute money toward a gift or attend a birthday lunch.
Allow the celebrant to take a "free" PTO day on their birthday.
Decorate the celebrant's desk as a surprise.
Give a gift card to a popular store or restaurant.
In large companies with many birthdays, throw a monthly celebration, perhaps with a cake, that acknowledges all workers born in that month.
There are no hard and fast rules on how to celebrate birthdays at work. You might choose to go out for Happy Hour, take your staff member to lunch, or even come in early to decorate the honoree's workspace. It doesn't matter how you recognize their special day, just that you do.
Tweet