A business that's stagnant and lacking growth is a business that is on the road to extinction. Like a shark, a business must keep making progress, keep moving, or else perish. That's why, if you are in charge of a business, you need to come up with new ways to expand that customer base.
Here are four good, reliable methods for developing new business. When you're done with them, check out even more resources in "Help! I Need To Develop New Business- Now What?"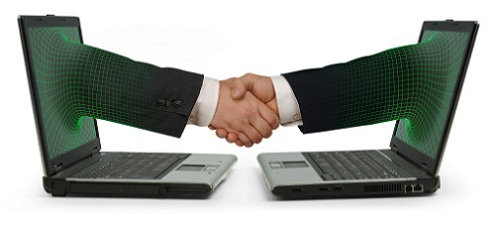 There are many exciting ways of getting a new customer base, including social media (Photo Credit: ganderssen1)
Word Of Mouth
Nothing engenders trust and confidence than a recommendation from a known, reliable source. It's one thing for you to tell a prospective customer that you provide the best services in your field; it's another for a happy customer base to sing your praises for you. The latter is far more believable. Not convinced? Check out the popularity of sites like AngiesList.com.
Bear in mind, word of mouth also covers B2B referrals, which you can get from within the companies that you service. In fact, a referral from the department of a given company could open another sales door in a different department within the same organization.
Co-Marketing And Cross Promotions
Say for instance you have your own website-hosting business, but you want to expand your clientele. Furthermore, let's say you know of a website-design business that's looking for more work as well. Your companies are not in direct competition, but rather provide services that complement each other.
This kind of symbiotic relationship can benefit both companies and increase their respective exposure. Not to mention that it's always good to expand your network of business connections as a general rule!
Get Out There!
In order to get a bigger customer base, you need to initiate contact with more people, and what's more effective than being right there in front of them, speaking, showing the prospective customers a real flesh and blood human being who knows what they're talking about? Consider being a speaker at a convention, trade show, or other related industry event. The personal touch gives people a face to attach to a name, opens up the possibility of a productive relationship with potential customers, and most importantly, shows people that you know your stuff. A business' representative who demonstrates competence and knowledge creates trust and confidence in an otherwise reluctant customer.
Social Media
This one's inevitable. It seems you can't hope to do anything today, or stand out in any way, unless you turn to social media. So, if you can't beat them, join them! For instance, consider using Twitter in order to promote your company's services, products, events, and sales. Just make sure to incorporate hashtags so that customers can easily find your topic.
Furthermore, you can track buying signals on Twitter, looking for users by entering search terms that mesh with your company's products and services. Harkening back to our previous example, you can enter the term "web hosting" in a search, or look for #webhosting.
There are more ways out there to choose from; this is just scratching the surface. Check out more ideas on business development in "Develop Your Business Using Customer Development", for example. But whatever methods you decide on, you need to make sure that your business is not only perpetually growing, but is staying ahead of the pack. Good luck!
Byline: John Terra has been a freelance writer since 1985. He's learned that self-promotion is the key to success, though he's still resistant to Twitter.
Tweet