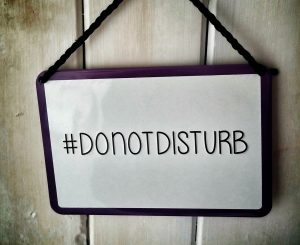 The last days of the year are ticking down, soon it will be time to ring in 2017. I bet you're thinking, "But I still have so much to do in 2016!" and are rushing around to finish up those last few projects. We all have so much on our plates that time just tends to get away from us. Some days we get so distracted we can't remember what the original project we started on was. If this sounds like you join us in celebrating No Interruptions Day!
No Interruptions Day celebrates the last work day of the year and aims to help us all concentrate and round out the year feeling accomplished, as well as allow us to walk into the office in the new year with a clean slate. This year, No Interruptions Day is Friday, December 30 (unless you work weekends too, by all means, celebrate on the 31st). So let's take some time to get centered and finish this year out right!
Here are some ways you can celebrate in the office this year:
Make it an office-wide event–Get the word out and let the office know about No Interruptions Day. Broadcast it through your company intranet and encourage clients and/or family to take part as well. By making it a group effort you'll be able to accomplish more. This also lowers the likelihood being distracted by co-workers, family, or others (unless it's an emergency) as you'll all be focusing on year-end projects.
Turn off your cell phone–Our cell phones go everywhere with us, even to bed. On the 30th (or whatever day you decide to celebrate), leave your phone at home, or shut it off and keep it out of sight. This way you won't be tempted to check any of your social media accounts or personal texts that tend to derail your focus.
Shut your door–If you are lucky enough to have an office door, shut it and place an educational note about No Interruptions Day and how you are celebrating on it. This way others will be less likely to intrude on your "work holiday" and you'll be able to concentrate better by having the noise of normal office commotion deadened by the door.
Noise canceling headphones/Music–Not lucky enough to have an office door? If you are distracted by background noises consider bringing in some noise canceling headphones to help you focus. Are you motivated by music rather than silence? Bring in your headphones and shuffle your favorite playlist. If you are looking for playlists that will help you concentrate check out this list for some inspiration.
Make a plan–Much of our day in the office is taken up by replying back and forth to emails or returning phone calls. Try and make a plan to best manage your time and optimize it. Set aside a specific time period when you will check your messages, address them, and then move on to your next project.
We wish you all productive last days of 2016 and hope you have a successful and prosperous 2017. If you are planning on celebrating No Interruptions Day let us know! If you have suggestions on ways to participate share them with us!
Tweet