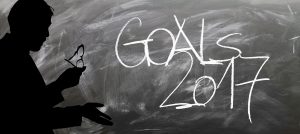 Looking out my window, the snow has finally begun to fly. In a few weeks, Christmas will be upon us and after that New Years. With the ringing in of 2017, we all want to start fresh. New year, new you, right? What about new year, new office? Here are five office New Year's resolutions to help get you started with your list.
1. Get and stay organized–If you are anything like me and your desk looks like a tornado hit it, this might be a good idea. I am always digging through piles hoping the document I need hasn't been thrown away. I can't imagine how much time I've wasted just looking for a Post-it with a phone number I wrote down days ago. By taking the time to organize your desk each evening before you leave and developing a better filing system, you can help save your sanity and save time.
2. Stay Positive–We all have days that try our patience, and sometimes all we want to do is complain. Though venting serves a purpose, it can spiral out of control and create a culture of negativity. This hurts productivity and quality of work. By trying to look at challenges in a different, more positive way it can change your mood and your work. When presented with a challenge instead of outwardly expressing your irritation, take a second to breathe and reform your thoughts.
3. Get Healthy–Many people include a health goal as part of their resolutions so bringing that to the office is only logical. If you have snacks in your desk take inventory and try to remove any bad temptations. Take it a step further and organize a workout challenge group in the office and cheer each other on towards your goal.
4. Give More–There's something about giving a present to someone or contributing (time or money) to a good cause that makes you feel warm and fuzzy inside. Taking time to give more in the workplace can help build better relationships with your co-workers and create a culture of caring. This can be a two-part resolution, internal and external. Part one: Start by giving more within the office and making small gestures among co-workers. If you know a co-worker is having a bad day, buy him or her a snack to help cheer them up. Part two: Take things outside of the office and volunteer as a group for a non-profit of your choice. For help and ideas on how to do this visit the Tapolci Foundation.
5. Focus on the Mission–The new year is always a great time to evaluate and re-focus your mission, be it organization-wide or just departmental. Getting everyone on board and moving in the right direction will help you conquer the year ahead effectively.
Making New Year's Resolutions is a tradition. We'd love to know what you have done in the past and what you are planning for in the future. What office resolutions did we miss? Do you have any suggestions on how to successfully keep them?
Tweet