How was your week? We're excited to be ending another great one here at ABG Capital! The biggest thing that we had going on this week was our Month End Meeting. All the employees gathered around and got to hear the latest ABG Capital news.
We recognized our Employee of the Month, Terri Sams, who works for Inspira. She was nominated by Nate Rupp and Ryan Rice for her exceptional work. We recognized two VoIP Innovations employees, Justin Cornish and Randy Stegner, as honorable mentions for all the hard work they've been putting in. We also have to mention Eric Butler and Dustin Campbell, from VoIP Innovations, because they received some pretty awesome feedback from a customer. Caricatures of them are now hanging on our 'Atta Boy board.
At this meeting, Jeff Tapolci, CEO of ABG Capital, announced that profit sharing has officially been approved by the Board of Directors! This is great news for all of the ABG Capital employees because they'll be able to get some extra cash in their pockets at the end of the year. Profit sharing was something that's been on everyone's minds for a long time now and we're excited to see that it's actually happening!
Now that we got all that good news out of the way, it's time to get down to business! We've recently entered the Social Madness competition organized by The Business Journals. It's a competition that measures the amount of social engagement you have with your fans and followers, not the growth of your network. The local competition kicks off this Monday, June 3, and the winners will be announced on July 9. From that point, the winners from each size category will move on to the national competition, which starts on July 16, and then the entire competition ends on August 20.
This is a competition that involves everyone and we need YOUR help to make sure we move on to the national round and win for our category. As a winner, we would receive a national editorial write up and have $10,000 donated to a charity of our choice. This competition is not about seeing how many likes we can get in the time frame; it's about your engagement with our sites. That means liking, commenting and sharing the things we post. Show us some love people! The competition will focus on our Facebook, Twitter, LinkedIn and Google+ pages. Even though the competition only covers these four sites, we're also on Pinterest, YouTube, Instagram and Vine (search for ABG Capital).
I planned on the Social Madness explanation being the last part of this 'Just another Friday' post, but I couldn't resist sharing this picture with you. Our air conditioning unit is right above Ian Hambleton's desk. He comes in later in the day and it wasn't too long after he got here that he realized there was a problem… Water was leaking right onto his desk! He grabbed some bowls and is STILL waiting for the dripping to stop so he can get to work. Good luck Ian!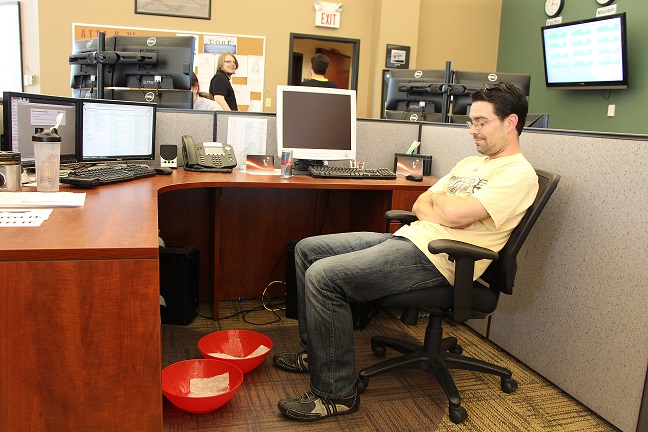 Tweet