Everyone likes to feel appreciated for his or her contributions at work. Have you been making it a point to show gratitude to your employees recently? Observed on the first Friday in March each year, which happens to be today, is Employee Appreciation Day! Take some time today to participate.
Let us count the ways:
1. Organize a Recognition Ceremony
Have a ceremony to recognize the accomplishments of your coworkers. Whether it is their work anniversary year, great customer interactions, or meeting sales goals, your employees will enjoy being recognized for their accomplishments.
2. Have a Food Day
Order out for lunch, have a breakfast buffet, or bring in some baked goods. Whatever you choose, employees will enjoy free food and a reason to hang out in the break room.
3. Provide Professional Development
Become a mentor or provide training opportunities for your employees. Allow them to develop within their careers.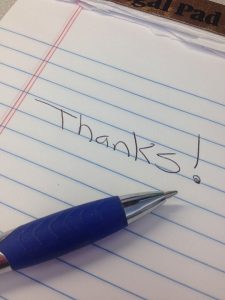 4. Send Thank You Notes
Create personalized thank you notes to recognize your employees. Take the opportunity to show your coworkers that you care about their work and accomplishments.
5. Small Gifts
This one depends on your company's gift policy, so make sure to check with Human Resources before buying any gifts. If HR gives you the go ahead, buy small gifts or gift cards to hand out.
6. Take Time to Listen
Listening to your employees is one of the keys to great communication. In this case, listening does not mean only paying attention to work-related conversations. Take time to listen to your employees all the time. What do they like to do outside of work? Do you know?
7. Create Opportunity
Show your coworkers that you appreciate them by creating opportunities. Send someone to an important meeting to encourage him to step out of his comfort zone.
8. Extra Time Off
Surprise your office by sending everyone home early. If that won't work, give out some PTO or vacation time. This will allow your coworkers to rest, relax, and be ready continue their great work.
9. Give Away Apparel
Giving away shirts, polos, sweatshirts, or blankets with company branding makes a great employee appreciation gift, boosts morale, and serves as a marketing tool. What more could you want?
10. Keep It Up
Don't wait for Employee Appreciation Day to recognize your coworkers. Find ways to show your gratitude throughout the year.
How are you going to show appreciation to your employees this year? Share in the comments below!
Tweet