"The Cloud." We've all heard the term. We understand it in the most abstract of ideas. We can store files in it, run programs from it, heck, my fiancé talks about setting up virtual servers (whatever that means). This digital storehouse of sorts can come in very handy; but what is it exactly and how can it be used to its best advantage? Does it have down falls? Let's define "The Cloud" and what it can do for you and your organization.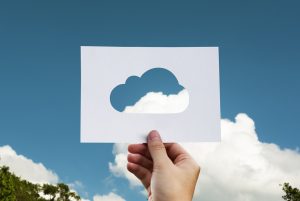 What is it?
Most digital data is non-tangible but is stored on devices that are. As I type this post, the information is saved to my computer's hard drive. The hard drive is a physical piece of equipment. It can be removed and placed into another device and the information on it accessed. With The Cloud, there is no physical device needed to reach your digital files. By using The Cloud, I am able to create and edit files from practically anywhere. It is a globally connected computer you always have access to.
Information is essentially stored "on the internet". The Cloud is run by off-site servers that do the majority of the workload. Instead of having software loaded into multiple computers, it can be accessed from the servers by means of online applications. This allows the connection from any device with internet access.
Saves space: By operating office-site servers and not taking loading additional software onto hard drives, you don't lose physical space in your facility nor storage space on your computers. This means less upkeep and less clutter on your hard drive.
Accessibility: Have an internet connected device? Great! You have access. You have the ability to work from anywhere, as do your co-workers, and you can all collaborate.
Cost: Before cloud computing, you would need to buy software for each computer and upkeep their licensures. Utilizing The Cloud can cut cost on the amount of software you purchase.
Con's
Accessibility: Though accessibility is a strong point of The Cloud, it is also a downfall. If you have a subpar internet connection, good luck reaching your files. It's in instances like this that having the software installed on your physical device would be more appropriate.
Security: The Cloud "lives" online and you can access it easily, which means if it is easy for you, it's easy for others. You need to pay close attention to security protocols to make sure your information does not get into the wrong hands.
Control: Hosting servers off-site or contracting services from an outside source takes control away from your in-house tech team. You are no longer in charge of your own equipment and are unable to service it. You will rely on the integration of services from outside vendors, which can at times be tasking.
So what do you do with all of this information? How does this best work for your organization? What is the most cost effective? These are questions you need to ask before outlining how The Cloud will work into your business plan. If you are just looking to store a small amount of noncritical information or are just looking for email hosting, utilizing cloud services from an outside vendor may be beneficial. If you are looking to create a cloud computing system for a large amount of secure information you may want to look into buying and creating your own system so that you retain control and security options.
The Cloud is only growing. Figuring out how to utilize it in your business plan is essential. How do you already use cloud computing, or how do you plan to use it in the future?
Tweet