WHO: Jeff Tapolci and Jim Hoffman
WHAT: One-on-one coaching session
WHERE: The better question is where weren't they!
WHEN: Wednesday May 22, 2013
There were two goals set for this day: 1. Gain business knowledge and tips. 2. Learn how to pick out the perfect shotgun for shooting sporting clays. It's safe to say that both of these goals were accomplished in the day that Jeff and Jim spent together.
They started their day at Jeff's house and then made their way to Cabela's. The long drive gave them the opportunity to really talk about any issues, questions, or new techniques that could be helpful for the entire organization. This is similar to what all the managers at ABG Capital do with their employees: they meet once a month to discuss the things they're doing well and the things they need to work on. After all, CEO's even need some coaching once in a while!
Once the guys made it to Cabela's it was time to put the business talk on hold and get down to the fun stuff. Jim knows a ton when it comes to shotguns and shooting and Jeff is a novice. In their last meeting, they talked about having a lesson on skeet and clay shooting and that day was almost here.  They spent some quality time finding the gun the fit Jeff perfectly and then they loaded up with plenty of ammo. Once they had all they needed from Cabela's, it was time to grab some lunch at Cheddar's. After lunch they met up with Ron Eggert at Bistecca at the Meadows Racetrack and Casino where they enjoyed some cigars and cocktails.
Despite the excitement of picking out the perfect gun and enjoying a relaxing evening, the day revolved around coaching, brainstorming, solving problems and some good old fashioned male bonding time. The great thing about these guys is that they never forgot that these kind of meetings need to be fun too and they always remember their motto, "Always have fun while training." That's a pretty good motto for anyone to keep in mind!
They always make sure these coaching sessions are out of the office so everyone is free of their normal daily distractions. It's a great way to stay relaxed and keep a clear head while learning new things for the organization. The new tactics and information they learn can be brought back to other organization leaders and ultimately help to meet more goals of the entire organization.
WHO: Jeff Tapolci, Ron Eggert, Jim Hoffman, Justin McNeil
WHAT: Group coaching sessions
WHERE: Millvale Sportsman Club
WHEN: Thursday May 23, 2013
I'm sure you've heard the expression four heads are better than one, but the meeting Jeff had with Jim, Ron, and Justin brought more life to it. Justin McNeil, owner of McNeil Industries, is a friend of Jeff's and comes in from Cleveland on a regular basis to meet with Jim and also with Jeff. Today he was joining them for a day filled with more business talk and lessons on skeet and clay shooting.
You have to understand that when Jeff gets together with Jim the things he learns go far beyond the business realm. Jim talks about guns, golf, hunting, and fishing but he always manages to teach Jeff important business and life lessons.
The guys met up at the Millvale Sportsman Club and swapped stories of different things they've been through throughout their time in business. They asked questions and got advice and it was a great day spent with great company. They all learned some very important business and life lessons while also learning the fundamentals of skeet and clay shooting. Jeff was thrilled because the day was finally here where he could shoot his own gun! Other than the business talk and gun shooting, Justin picked up another valuable life lesson; how to change a flat tire.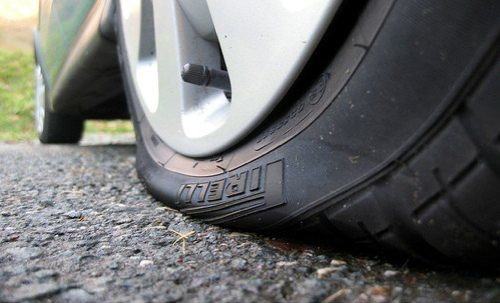 Ron and Jim have been around the block a little longer than Jeff and Justin and they remember when flat tires were happening all the time. Jeff had just encountered his first flat a few months ago and this was Justin's first. The guys noticed the flat but figured they would change it later and continued their day. You would think that with the 'four heads are better than one' theory on their side they would have just changed it then, but they didn't. Before they knew it, they were regretting their decision to wait because it started to rain. They did however work as a team to figure out how to get the spare tire off the rack but after a few phone calls, they were able to get the flat tire repaired without taking it off completely. That's lucky!
All in all they had some great coaching sessions and ended their day Jergels with some dinner and drinks. Everyone learned some new techniques to bring back to the office, or the shooting range, and they had fun doing it.
Tweet