Today we want to recognize Sara Warhold for her outstanding work as the ABG Capital Office Administrator. Sara is a fantastic employee and we appreciate all she does for us. The office wouldn't be the same with out her! Sara was also our March Employee of the Month and here are some nice things that people had to say when they nominated her:
I voted for Sara as she has been a huge asset to helping out Erica and myself. Since she started, we were able to move some tasks that I was doing, over to her and she has handled those like a ROCK STAR. She was able to adapt to a new situation and she welcomed the extra tasks given to her with open arms.
− Nick Jenkner
In addition to Nick's comments, I too am very pleased with the extra effort Sara continues to provide on an ongoing basis. As our Office Administrator, Sara continues to be a great asset to our company. She works very hard and is productive in performing her administrative tasks above and beyond what is required. Sara takes pride in her work and sets high standards for herself. She has made a huge impact on assisting with company communications, leading up committees and organizing our employee events (among a whole lot of other things..) We should all be thankful for Sara! Her efficiencies, positive disposition and "let's just do it" attitude help mold our ABG Culture and set the stage for future success! Thank you, Sara! Keep up the great work!
− Sharon A. Kolesar
We also had a chance to talk to Sara and get to know her a little better today. Here are her responses to our questions:
How long have you been with ABG? – I started in September of 2012, so a little over 7 months.
What are your favorite things about working for ABG? – My favorite things about working at ABG are my coworkers! I also love coming in every day and seeing what the next "adventure" will be!
What's your favorite part of your job? – My favorite part of my job is planning the activities, volunteer opportunities, and gatherings we have. But I also like leaving at the end of the day and looking back on the things I did to help someone get their job done. I want to be the person people can come to when they need help with a project or a task. It makes me glad to see those projects through.
Where do you think you'd be if you weren't working here? – Before I started back to work, I was a stay at home mom with my son Max and I was also a Jazzercise Instructor. But honestly, I don't even want to think about where else I might have ended up. I feel very fortunate to have found a place here, and I hope to stay for a long time!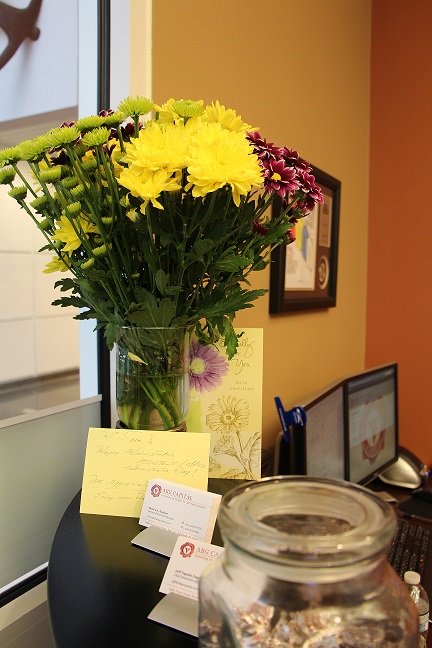 To show our appreciation for Sara, we got her flowers and a card that was signed by everyone in the office. Thank you for all you do! Any organization would be lost without their administrative staff, so we would also like to send a huge thank you to all administrative professionals out there!
Tweet