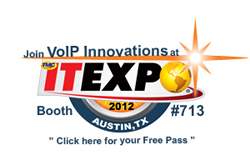 In early October, ABG Capital's portfolio company, VoIP Innovations, will be present in Austin, exhibiting their premier wholesale VoIP services.  The ITEXPO is the world's largest communications and technology event.  Many companies attend this semiannual convention to foster new business opportunities and research the latest technology in the communications sector.  Current service providers, ITSP's, resellers, carriers, call centers, and others interested in a partnership are encouraged to visit VoIP Innovations at booth #713.
At the 2012 ITEXPO West, VoIP Innovations plans to unveil more customer-friendly elements to their growing repetoire of offerings.  Continually investing in infrastructure to ultimately provide the best possible services to their customers is their goal.  "We have developed and deployed industry changing back office tools that provide phenomenal visibility and functionality to our customers," said Jason Tapolci, President of VoIP Innovations.  "It's all about making it easier for our customer."
Join VoIP Innovations as they showcase their premier wholesale VoIP service at their 13th ITEXPO on October 3-5 in Austin, Texas.  Look for the guys in the orange ties at Booth #713.  Follow VoIP Innovations on twitter at @voipinnovations or look for them on Facebook, LinkedIn, and Pinterest to keep up with their events and happenings.
VoIP Innovations, who provides wholesale VoIP services to Carriers, ITSP's, Calling Centers, Calling Card Companies, and SMB/Enterprise, is owned by ABG Capital which is based in Pittsburgh, PA.  To learn more about these companies visit them at http://www.abgcapital.com and http://www.voipinnovations.com
Tweet