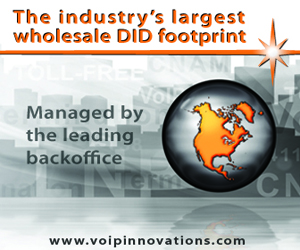 TMCnet, a global, integrated media company helping clients build communities in print, in person and online, announced that the Wholesale VoIP channel, sponsored by ABG Capital portfolio company, VoIP Innovations, has been launched as the newest addition to the TMCnet Online Community program.
The Wholesale VoIP Channel is designed for individuals involved in the VoIP and telecommunications industry interested in learning about and acquiring wholesale VoIP services. Information on the Wholesale VoIP Channel addresses issues important to these individuals interested in how to stay ahead in the ever-evolving and competitive VoIP space. Visitors to the Wholesale VoIP Channel can find valuable resources such as feature articles, industry news, white papers, free product trials and e-demos.
The Wholesale VoIP channel can be found at: http://wholesale-voip.tmcnet.com
"VoIP Innovations is pleased to join forces with TMC, the leader of communications and technology media," commented Jason Tapolci, President of VoIP Innovations. "TMCnet is known for providing valuable content, and we're thrilled to sponsor this forum where people can learn more about collaborative, online project management."
VoIP Innovations is a wholesale VoIP origination and termination carrier for over 1000 ITSPs, Hosted PBX providers, call centers, calling card providers and carriers. Specializing in providing the largest DID and termination VoIP footprints in North America, the company has played a central role in the growing world of VoIP for over 10 years. Boasting the experience, extensive network and dedicated staff, VoIP Innovations has been bringing its customers' businesses to new, sophisticated levels to achieve a strong competitive edge. Additionally, the company offers the nation's largest telecom providers with the most affordable and efficient wholesale VoIP rates and network footprint needed to remain competitive, such as its proprietary Titanium III platform, which enables customers to deploy VoIP services in real-time via their cloud service.
"TMCnet welcomes VoIP Innovations' channel into our Online Community program," stated TMC President Dave Rodriguez. "VoIP Innovations is a well-respected wholesale VoIP provider that shares our vision of advancing new technologies. Our Online Community program is a powerful Community-building vehicle assisting our partners in building their brands, while contributing to the vast array of valuable content which drives traffic to TMCnet, the most-visited communications and technology website in the world."
TMCnet is the leading Website for communications and technology professionals. TMCnet is visited by 1.5 million unique monthly visitors and generates more than 60 million page views every month, according to Webtrends.  TMC is celebrating its 40th anniversary as a global, integrated media company that helps clients build communities in print, in person, and online.  TMC publishes the TMC's CUSTOMER Magazine (formerly Customer Interaction Solutions), INTERNET TELEPHONY, Next Gen Mobility, and Cloud Computing magazines. TMCnet.com, which is read by 1.5 million unique visitors each month, is the leading source of news and articles for the communications and technology industries. TMC is the producer of ITEXPO, the world's leading B2B communications event. In addition, TMC runs multiple industry events:  Cloud Communications Expo; Cloud4SMB Expo; CVx (ChannelVision Expo); DevCon5; HTML5 Summit; LatinComm Conference & Expo; M2M Evolution Conference & Expo; Mobility Tech Conference & Expo; MSPAlliance MSPWorld; StartupCamp; Video World Conference & Expo and more.  For more information about TMC, visit http://www.tmcnet.com
VoIP Innovations is owned by ABG Capital, which is based in Pittsburgh, PA.  VoIP Innovations provides wholesale VoIP services to Carriers, ITSP's, Calling Centers, Calling Card Companies and SMB/Enterprise. These services include VoIP Origination, Termination, Toll-Free, 411, e911 (News – Alert), Caller ID, CNAM and more.  VoIP Innovations was recently awarded #744 on the 2012 Inc. 5000 list and #12 on the Pittsburgh Business Times 100 List of Fastest-growing Pittsburgh-area Private Companies.  For more information about these companies, please visit http://www.abgcapital.com and http://www.voipinnovations.com
Tweet