Looks like everyone survived the week again! It was a relatively calm week in the office for us at ABG Capital. We first wanted to make you aware that our subscribe button is now fully functional! It's on the top of our side bar on our homepage and while you're there, have you checked out all of our social media sites? We have all the links right there for you to click on!
In other news, our HR Manager, Sharon Kolesar, is going to be out of the office until March 12th. Everyone knows what happens when the HR Manager leaves, it's time for fun! Don't worry Sharon, we'll try to behave while you're enjoying your time in Hawaii. We're a responsible group of people, you can trust us!
Some new and exciting news to keep an eye out for is more information on the office build-out we're starting next week. There will be more blog posts that talk about it and we'll keep you updated with information and pictures along the way.
To bring this post to a close, we'll finally reveal what our fantastic lunch was today. This week we got to have a lunch that was prepared by one of our lunch committees and they did a great job. The planned a breakfast for lunch! There were pancakes, scrambled eggs, sausage, bacon and even some girl scout cookies to top it off. It was a great way to start the weekend.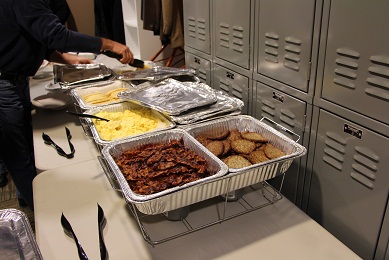 Tweet